Digital Mix working alongside Edwards Sound provided the Sound, LED Screen (IMAG) and a two camera switching system for the NEFF Cooking Theatre cooking demonstration at the Wellington Foodshow 2019.
Cooking demonstration by celebrity chefs, Annabelle White, Annabelle Langbein, Luke Hines, Simon Gault, Monique Fiso, and Karena & Kasey was filmed and relayed to a Full HD LED screen suspended part of the backdrop of the stage.
Edwards sound being the primary contractor for this major event on the annual Foodshow calendar subcontracted Digital Mix to provide the cameras and technical support.
Cameras and operator
Digital Mix provided 2 Panasonic Full High Definition cameras, the first being a fully portable wireless HD-SDI solution. The camera rig consisted of:
Panasonic HD Camera
IDX Camwave wireless SDI transmission system
Backpack with long life batteries
Shoulder rig
Manfrotto lens remote control
The second camera was a fixed unit clamped to a lighting stand providing a wide angle shot of the stage.
Technical Support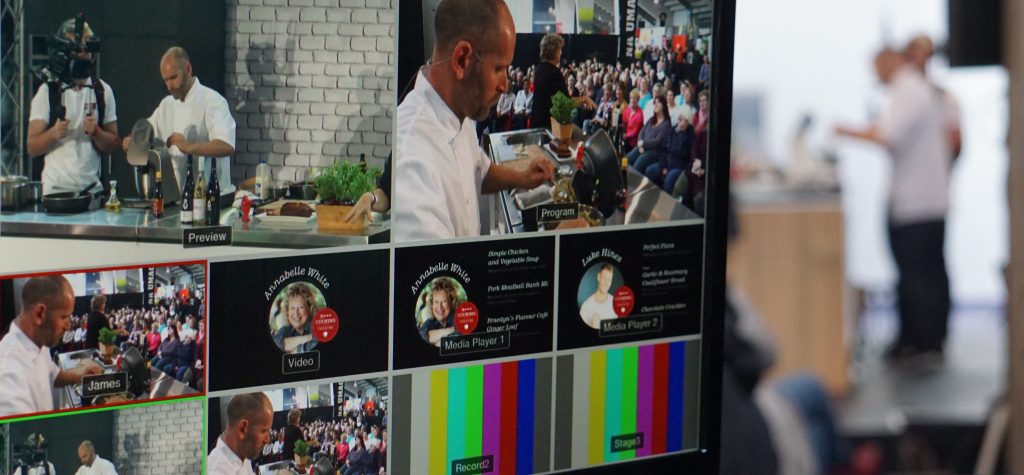 Digital Mix provided an experienced technician to manage all the equipment and operate the sound and vision mixers. The main ops area consisted of
Blackmagic ATEM 1ME vision switcher
Soundcraft sound mixer
Lighting controls
4 x Shure radio mics, (2 x Headset, 2 x hand held)
3 x laptops for music, video content and vision control
The show was a huge success with most cooking demonstration sessions being full with visitors to the Wellington Foodshow 2019.
DigitalMix is proud to be associated with events such as this and is continually building on previous show experience to improve the overall visitor experience. For more information on this and other services offered by DigitalMix please visit our events page